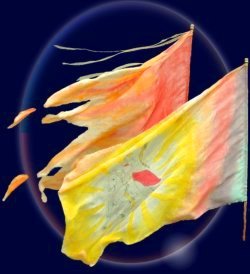 Due to time constraints, I've cut banner production to just a few designs (see below). Banner instructions and cases are still available for purchase.
Hand dyed/painted silk worship banners (also called praise flags) dimensions are approximately 31" X 43" on a 36" hardwood rod. Fabric is 100% Habotai (China silk). Because these are hand made banners, no two are ever exactly alike. More designs coming. Custom banners also available.
Contact Peg Arnoldussen for banner ordering.
Email order message via email order form.
Send check or money order with mail-in order form.
Peg's Banner Catalog PDF file or Order Form page
Click images to view larger photos or make PayPal purchase. PayPal payment buttons are located on individual pages of available flags. PayPal membership is no longer required for shopping cart transactions.

*US Orders: Start at $4.50 for 1 item, add $1.00 more each additional item, up to 10. Payment options: PayPal, check, money order.
International Orders: In most cases, I will have to purchase a mailing tube ($3.66 US), plus add shipping for whatever your shipping method preference is. A tube plus one banner weighs approximately 14 ounces. Each additional banner is approximately 4 ounces. Up to five banners will fit in a tube. Case is 14 ounces. Case mailed separately in a package is 22 ounces. Shipping rates to your country can be calculated HERE. Add $3.00 US for handling. This should provide you with a very close approximation of your actual shipping charges. I always reimburse overpayments. Payment options: International Money Orders, PayPal.
Alternative: If you are able to acquire an appropriate rod in your country (I use wooden dowels), I can ship just the fabric banners. This will lower your shipping charges. A single banner weights approximately 2 ounces. A small mailer weighs approximately 2 ounces. I can include a finial cap if you need one (approximately 1 ounce). Shipping rates to your country can be calculated HERE. Add $2.00 US for handling. Payment options: International Money Orders, PayPal.
FORM: for notice of intent to order, just to ask questions, or send a message. Check your email address syntax for accuracy. Make certain your email box won't block my reply.

Want to be notified of new banner designs and accessories? Join my newsletter!