SITE INDEX
Banner-Related
BANNER HOME PAGE
MEANINGS
INSTRUCTIONS
PEG'S BANNERS
DAWN'S BANNERS
LINKS
PEG'S CATALOG
Other
PEG'S BASKETRY
ART BY ARNIE
CHEAP VACATIONS
REVIVE US!
TESTIMONIAL
MY CHURCH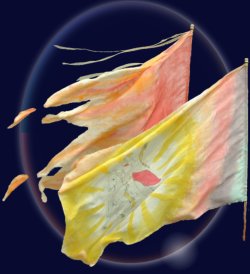 Yahweh Nissi; the Lord my Banner. Ex. 17:8-15.

Recently, I knew the prompting of the Lord to create a mattah, or prayer stick. I flowed with the Spirit of God in assembling it, but did not know what all the colors and components meant. One night, I awakened and couldn't get back to sleep. It was then that the Lord poured into me the meanings of the colors and components. These are applicable for flags also.
Royal blue - the royal kingship of the Lord God

White - the pure, spotless lamb that was slain

Red - the blood that was shed for our atonement, and is as effective today as it ever was

Metallic gold/metallic silver - our heavenly reward, our treasure. Gen. 15: 1 - the Lord is our shield and our very great reward

Turquoise - the water of life; the river of God

Yellow gold - the fire of God, the refining fire. Deut. 4: 24 - For the Lord God is a consuming fire.

Green - creation

Navy - worship and warfare
Leather - God's provision for us. After Adam and Eve had sinned, God Himself made leather garments for them

Various semi precious gemstones - the people of God of all nations and tongues. Gemstones on the breastplate of the high priest represented the 12 tribes of Israel, the people of God.

Braided cords - unity among believers. Ecc. 4: 12 - a cord of three strands is not easily broken

Feathers - God's nearness and protection. Ps. 91: 4 - He shall cover thee with His feathers, and under His wings shalt thou trust.

Wooden pole - a staff, it symbolizes the authority given to us by God, to advance His kingdom, to discern and destroy the powers of darkness, to protect and comfort our brethren
DECLARATIONS (JOHN 4:25)
(These were proclaimed over the congregation by Pastor. Compilation is courtesy of Jerry Nauert.)

1. In the name of Jesus, I declare the promises of God, which are yea and amen, will explode into your life. AMEN.
2. I declare the Holy Spirit make you healthy and strong in spirit, soul, and body so you can move in faith and expectation. AMEN.
3. I declare the blessing of supernatural strength upon you so you can behold the things God has planned for you as you obey His word. AMEN.
4. I declare that you will have ears that will only have the ability to hear the uplifting, the encouraging, and the lovely. AMEN.
5. I declare that your feet walk in holiness and your steps are forever ordered of the Lord. AMEN.
6. I declare that your hands be helping hands extended in worship and extended in servanthood. AMEN.
7. I declare that unity rests on this family, through humble hearts and service of love to each other and to the things of God. AMEN.
8. I declare that your minds will be strong and disciplined and balanced and faith-filled. AMEN.
9. I declare grace upon your homes and upon this house, that it be a sanctuary of rest, and of revival and renewal, a haven of peace where sounds of joy and laughter grace its walls. AMEN.
10. I declare prosperity of God, that you will have success in your businesses and places of labor as you acknowledge the Lord as the provider and Jehovah-Jireh through the tithes and the offerings. AMEN.
11. I declare through Jesus that you will overcome the evil one and avoid temptation. AMEN.
12. I declare God's grace upon your dreams and your visions. AMEN.
13. I declare that breakthroughs will come upon your spirit, your soul, and your body. AMEN.
14. I declare that worship will flow from your spirit to the very throne room of God, that you will indeed be the throne zone people. AMEN.
15. I declare a warring spirit upon you, that you possess the God-given spiritual authority in your hearts, in your homes, so that the devil will not be able to take any ground away from you or your family. AMEN.
16. I declare that the signs and wonders of God will be fully engaged in this house. AMEN.
17. I declare that the fire and wind in the earth and the sky and the oil and the grain converge upon you and this house. AMEN.
18. I declare that the freedom of the Holy Spirit come upon you to break every bondage and every chain that would bind you and bind others. AMEN.
19. I declare that the harvest and the reaping will rise up and bring that harvest in through the fulfillment of the call of God to be a harvester and to be a reaper. AMEN.
20. I declare that the cry of revival and renewal will indeed be greater than the cry of sin and unrighteousness. AMEN.
21. I declare that what we have just declared will be fulfilled starting now, in Jesus's Name!
Now in Jesus's Name!
Now in Jesus's Name!
I declare it for the Glory of God Almighty!!!!!!!!





Web design copyright 2003 by M.L. Arnoldussen. All rights reserved.