SITE INDEX
Banner-Related
BANNER HOME PAGE
MEANINGS
INSTRUCTIONS
WORSHIP TIME
PEG'S BANNERS
LINKS
CONTACT ME
ORDER FORM
PEG'S CATALOG
Other
PEG'S BASKETRY
ART BY ARNIE
CHEAP VACATIONS
REVIVE US!
TESTIMONIAL
MY CHURCH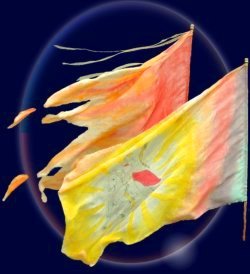 Instructional sheet in a page protector can be purchased for $3.50 (price includes US shipping). It explains everything: specific fabric and where to get it, rod dimensions and where to get it, how to sew and dye banners, how to work with extremely safe and simple dyes, much more. Excellent learning tool.
International shipping rates to your country can be calculated HERE. Weight is one ounce, large envelope. (Airmail Letter Post recommended. Sorry about the high global rate at my PayPal and CCNow stores, but I have to charge enough there to cover many different product combinations. You are welcome to initiate, or ask me to initiate, a PayPal email transaction for the price of this item plus actual shipping. I'm PayPal Verified. )
For instructional document purchase only:
Send cash, check, or money order to: Peg Arnoldussen, 1908 N. Douglas St., Appleton, WI 54914 Order Form
For questions answered, contact Peg.
Use PayPal
Because silk is a protein (animal) fiber, it can effectively be dyed with unsweetened Kool-Aid. The process is fairly simple and requires only kitchen supplies, as Kool-Aid is not a toxic chemical dye.
This link can easily be adapted to silk fabric. My publication specifically explains the process for silk.
If combining with fabric paints, the painting should be done after the dyeing process. My publication explains all this.
Copyright 2002-2004 by M.L. Arnoldussen. All rights reserved.