SITE INDEX
Banner-Related
BANNER HOME PAGE
MEANINGS
INSTRUCTIONS
PEG'S BANNERS
DAWN'S BANNERS
LINKS
Other
PEG'S BASKETRY
ART BY ARNIE
CHEAP VACATIONS
REVIVE US!
TESTIMONIAL
MY CHURCH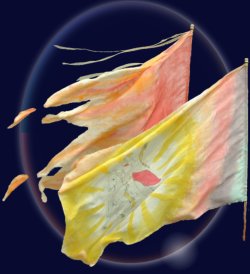 I sew solid color and print hand held flags from fabrics such as tissue lamé metallic (pictured below), nylon habutai (faux silk), shimmery organza, many other exotically colored, light weight fabrics that float gracefully. All fabrics are the same on both faces. Average price is $40.00 per flag, plus shipping. Contact me or use the PayPal self service order buttons, below.

My flags are approximately 30 x 38 inches. I make them with a part of the rod (dowel) extending out of the flag as a six inch handle, or completely enclosed in the flag fabric.

I am currently compiling a list of the different colors and their meanings, which of course mean different things to different people; I will present the meanings the Lord has given to me.

We use banners in our church as instruments of worship unto the Lord. He has brought healing to many of my friends, including myself, through the waving of certain colors of banners. I was healed of wrist pain that I had for several months. I was thinking it was carpal tunnel or something. I was waving a red banner (by His stripes we were healed), and one day I noticed my wrists didn't hurt anymore. Praise God!!!

I will anoint these banners and pray over them with our intercessors, if you so desire. Just let me know if you would like this done.

I would love to sew for you, or your church, so please contact me. If you don't see the colors that you want, I will see if they are available from my suppliers. Here is a sampling of what colors I have on hand at the moment. Please allow 3-4 weeks once payment has been received, for me to complete your banner. If it is a large order that you would like to place, I will need more time, as I do the sewing myself.

Thank you for your interest in these banners.

Purchase using PayPal
Select options and click "add to cart" button.

Worship Flag with Handle:

---

Worship Flag with Enclosed Rod:

Sample Flag (lamé/metallic)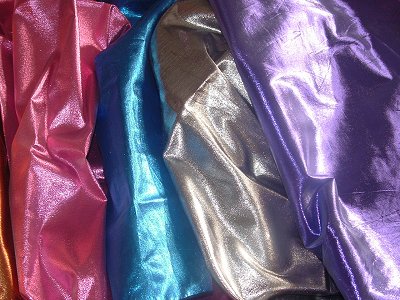 Lamé: pink, blue, silver and purple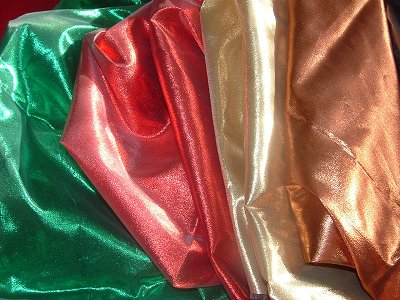 Lamé: green, red, gold and copper
Web design copyright 2003-2008 by M.L. Arnoldussen. All rights reserved.