SITE INDEX
Banner-Related
BANNER HOME PAGE
MEANINGS
INSTRUCTIONS
WORSHIP TIME
PEG'S BANNERS
LINKS
CONTACT ME
ORDER FORM
PEG'S CATALOG
Other
PEG'S BASKETRY
ART BY ARNIE
CHEAP VACATIONS
REVIVE US!
TESTIMONIAL
MY CHURCH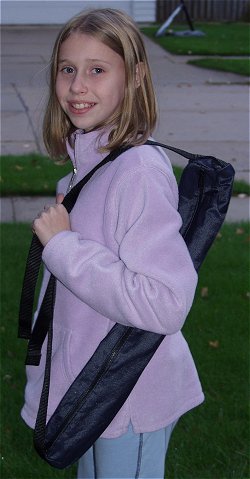 Zippered Banner "Quiver" Cases hold a lot of banners. Fabric color/design depends on availability of heavy gauge remnants. Case has an adjustable shoulder strap. Case length is about 39 inches. (Child size is about 26 inches.) $35.00 plus $4.50 shipping.

************************************************


Cases are made after order received. Though I try to act quickly, due to time constraints, please allow about 3 weeks for order fulfillment. If your order includes multiple items resulting in excessive shipping charges, I reimburse the excess.

Custom Leather Quiver

This item is not available for sale at this time--my sewing machine is too awful.
Custom leather quiver has hand-worked lane beading (glass seed beads) on
upper strap, "Salvation Bracelet" colors with turquoise background,
about 39 inches long, unlined, holds a lot of banners (I've put up to eight in with
plenty room for more). Cost would be around $100.
Due to materials and nature of product, all subsequent cases will not be
like this one or like any other.
Please contact me if at all interested in this item.





Copyright 2002-2004 by M.L. Arnoldussen. All rights reserved.